Mumbai: An evening before Eid-al-Adha, Bombay High Court, directed the BMC to issue guidelines for sacrificing animals in Deonar abattoir from 1st to 3rd August, of Eid-al-Adha.
A division bench of Chief justice Dipankar Datta and Justice Sarang Kotwal was hearing a petition filed by Al Qureshi Human Welfare Association. Mohammed Asif Qureshi, the petitioner in his video claimed that he has done what the Maha Vikas Aghadi could not do.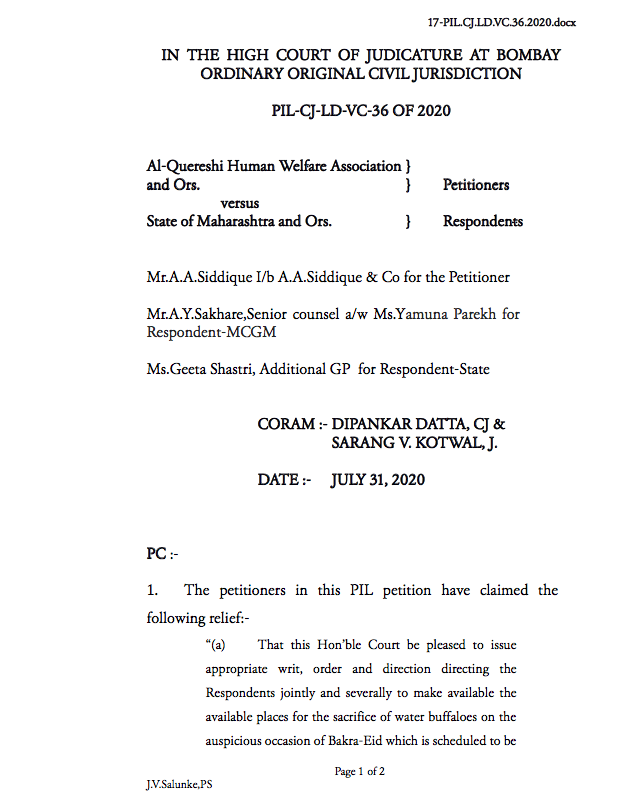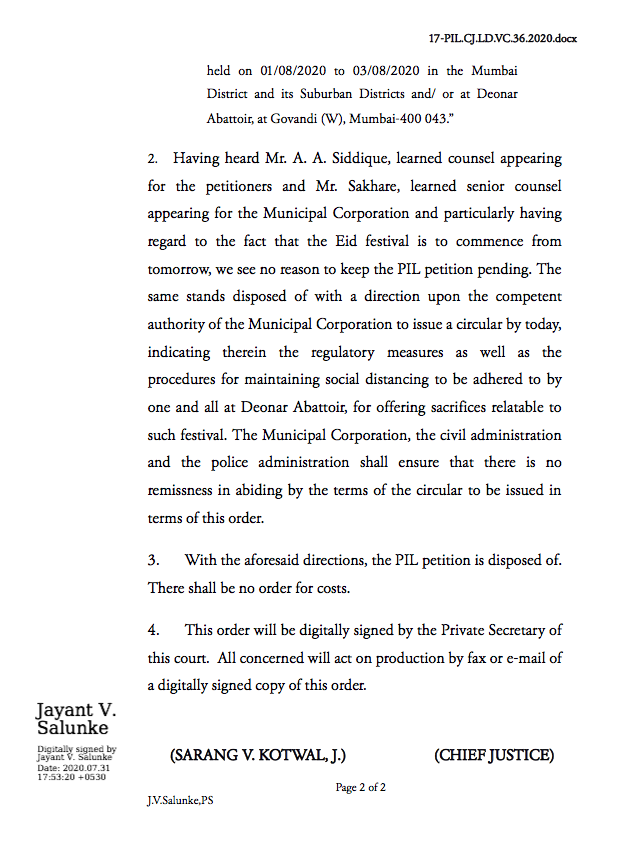 The fact of the matter is that this order will not serve the purpose as it only deals with the issue of sacrifice in the Deonar abattoir. Question now is "Where is the animal to sacrifice?"
It all started with the announcement of allowing Qurbani (sacrifice) on Eid-al-Adha and issuing guidelines making Qurbani, practically difficult. It created confusion and chaos among Muslims, even formed a perception about political leaders of willful wrong intentions.
The State Government could have simply prohibited Qurbani due to Covid-19 in the beginning and Muslims would have followed it like they did during Ramadan and Eid-al-Fitr.
Ulemas would have considered the prohibition of Qurbani due to Covid-19 because human lives, irrespective of their caste, region and religion are sacred, and saving them is the top most priority.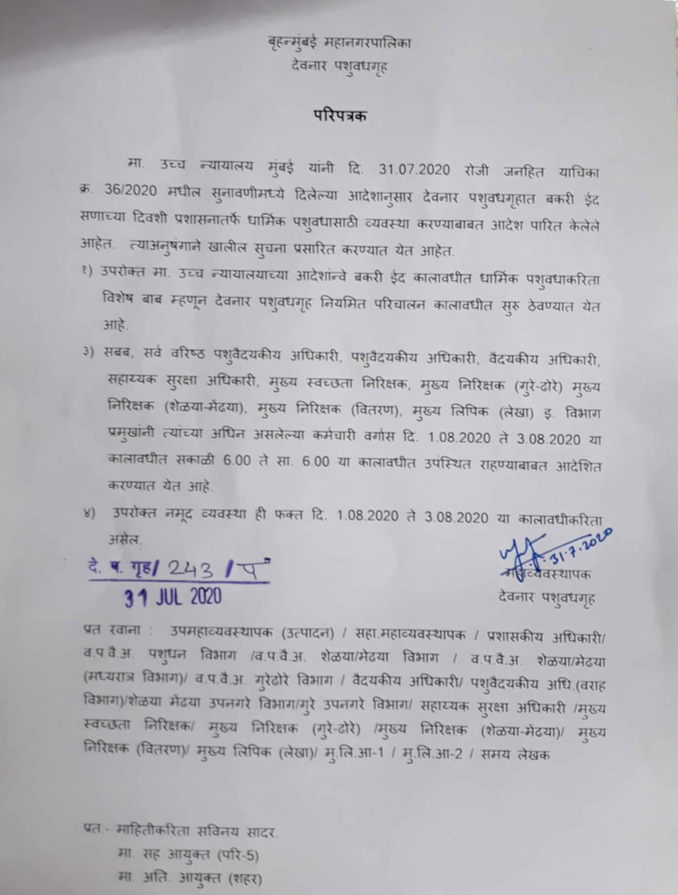 Assuring comments in the media by Muslims MLAs and Minister led to confusion and huge economic losses to the poor unorganized traders who are already reeling under lockdown.
Muslim Ulemas and activists claimed that the political leadership assured them about Qurbani on Eid-al- Adha at the beginning of July and issued repeated comments in the media after the confusing guidelines, assuring amendment in it.
Hundreds of Buffalos are lying in Bhiwandi bought because of the declarations that Qurbani will be allowed in Mumbai's Deonar- the biggest abattoir of India, goats bought online or to be bought online are getting sick and are dying in tempos at the checkpoints near Mumbai because of uneconomical law that allows only two goats in one tempo.
Traders have lost lakhs and the buyers will not be able to perform Qurbani because of all these flip-flops.
Symbolic Qurbani, a phrase used in the Bakra Eid directives is guided by Islamophobic propaganda and/or is the result of ignorance.
Qurbani is an obligation in Islam and not a symbol. Either you perform Qurbani or you don't because of economic reasons.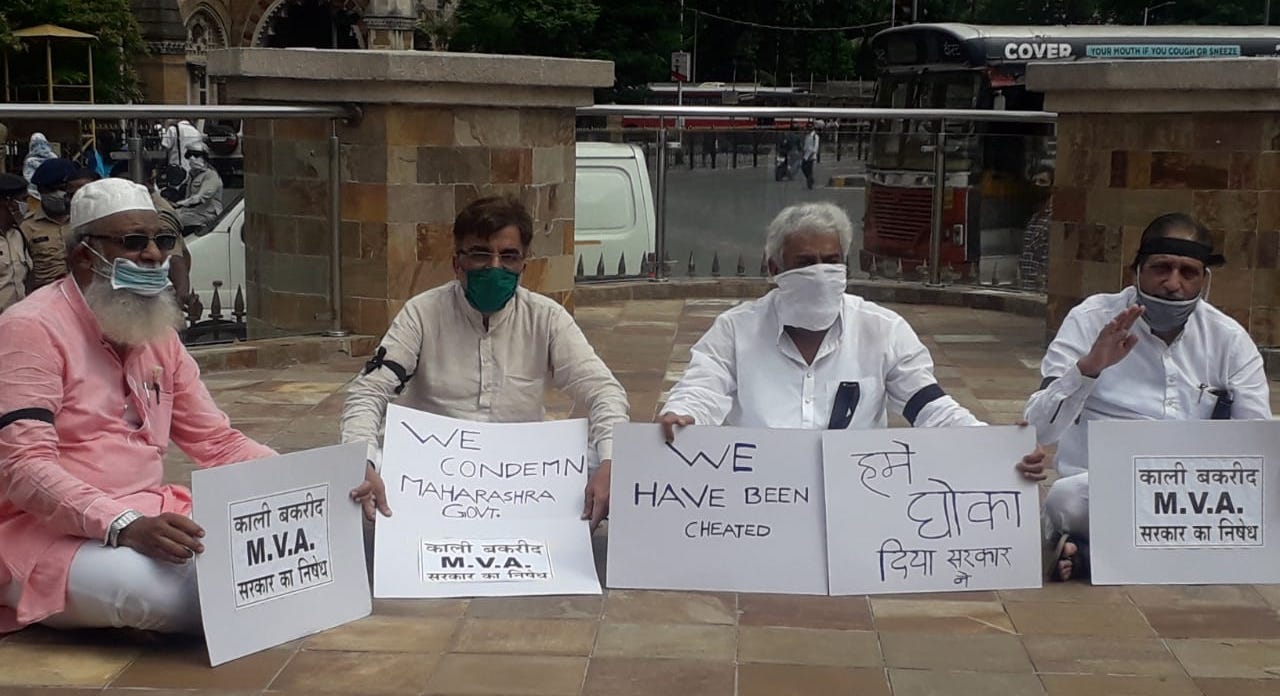 Pandemic, no doubt, has created extremely grave and an unprecedented situation all over the world, even the Hajj, one of the five pillars of Islam was performed by very few locals following guidelines of physical distancing.
But letting the trade of Non- Essential commodities and stopping goat and Buffalo trading, allowing the slaughter of animals in Deonar, abattoir every day except 3 days of Bakra Eid is unfair.
Bakri Mandi could be decentralized, trading of animals could be allowed in bigger grounds in different Municipal Wards to avoid large gatherings as suggested by many religious organisations.
Online trading of goats for Qurbani is impossible because of the obligation that a goat should be one year old, buffalo to be two years old, which can't be determined online. Also, animals of sacrifice should be healthy without any injuries or sickness, these conditions, also cannot be verified.