Our brave Indian army evokes feelings of nationalism and patriotism which drive and inspire many youngsters to live and die for our beloved India. Lance Naik Feroz Khan was one of those who lived and died for our country.
He was martyred in mortar shell firing by the eternal aggressor and our sworn enemy Pakistan on 15th October 2013. Seven long years have passed but the martyr's family is running from pillar to post for the promised amount of Rs.30 lakhs by the Telangana Rashtra Samithi (TRS) government headed by Chief Minister K. Chandrasekhar Rao (KCR) in 2014. Till date, not even Rs.30,000 has been given to the family. They were just given about Rs. 23,000. A plot of 200 square yards was given in the old city of Hyderabad.
Lance Naik Feroz Khan belonged to Nawab Sahab Kunta in the old quarter of Hyderabad but he was not a Nawab who was flush with funds. He was the son of an ex-army man Jaffer Khan. The promise of Rs.30 lakhs seem to have vanished in thin air. It speaks so much about the love of KCR for this proud Telangana Bidda (Son of Telangana) Feroz Khan who made the supreme sacrifice for the country.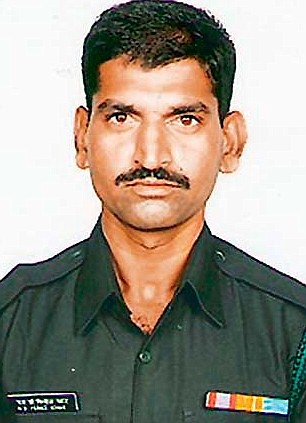 Recently, Telangana had the great honour of another Telangana Bidda Col. Santosh Babu making the supreme sacrifice for the country in the Ghulam Rasool Galwan Valley on 15th June 2020. He fought valiantly against the intruder China and brought glory to our country. Everybody was really pleased when KCR showed a lot of respect to the brave Col. Santosh Babu and visited his residence in Nalgonda district to personally handover a cheque of Rs.1 crore to the parents and another cheque of Rs. 4 crore to the widow Santoshi on 22nd June 2020. A prime plot of land – 750 square yards was given in the posh Banjara Hills of Hyderabad. Santoshi has already been appointed as a Deputy Collector within days of KCR's visit to her house. Everything was fine in this script except the pomp and show off with about 650 security personnel guarding the route from KCR's farmhouse to Col. Santosh Babu's residence.
It is significant to note that the handing over of Rs 5 crore, the plot of land, and the appointment as deputy collector took just 7 days for KCR! However, the Superman KCR failed Lance Naik Feroz's widow Nasreen Khan, his aged parents and little children. There is no quarrel with what KCR did for Col. Santosh Babu's family. They deserve everything that was given to them. But KCR Garu, why should you discriminate against martyr Lance Naik Feroz Khan?
A martyr is a martyr whether it is Col. Santosh Babu or Lance Naik Feroz Khan. Is KCR's mind more saffron coloured because of his proximity to the Saffron 'Saheb' perched on the throne in Delhi? You may just dismiss it as red-tapism but it is red rapism if it takes 7 years to move a file.
KCR was not impressed by Lance Naik Feroz Khan's commitment to the country. The brave martyr Khan had got leaves to go home on Eid but in the wake of increased shelling from the wretched Pakistani side, he refused to go on leave and was committed to guarding the Line of Control (LoC). KCR has crossed the Lakshman Rekha of humanity and decency by depriving the Khan family of the benefits that were due to them. On Monday, an advocate Pavan wrote a letter bringing to light the apathy of KCR government and disregard to the Khan family's financial dire straits. This is taken up by the Telangana High Court as a public interest litigation.
Next date of hearing is in the first week of August. The learned judges should summon KCR and ask him to deliver a public apology for humiliating Lance Naik Feroz Khan's memory by causing hardships to the martyr's family. KCR should also be asked to increase the payment to Rs. 5 crore because of the 7-year delay.
On his part, KCR should personally visit Nasreen Khan and apologise for all the hardships that the family faced during the last 7 years. By the way, he should not go without the Rs.5 crore cheque. Hopefully with all matters resolved soon, Lance Naik Feroz Khan may peacefully sing from heaven, Mohammed Rafi's patriotic song:
Kar Chale Hum Fida Jaan-o-Tann Sathiyon
Ab Tumhare Hawale Watan Sathiyon