Everyone loves chocolates. But, have you heard about Masala Chai flavored chocolate? Have you heard about eco-friendly chocolates? Kocoatrait chocolates will answer these questions. Kocoatrait is new in the chocolate market. Kocoatrait chocolates are made with a different approach. This brand believes in a zero-waste approach for chocolate making. Nitin Chordia and his wife Poonam Chordia started making chocolates by using organic cocoa beans. They use organic non-refined sugar to make chocolates. They make twelve different flavors of chocolates. Nitin is India's first certified chocolate taster. He talks about his eco-friendly chocolates and how he started etc.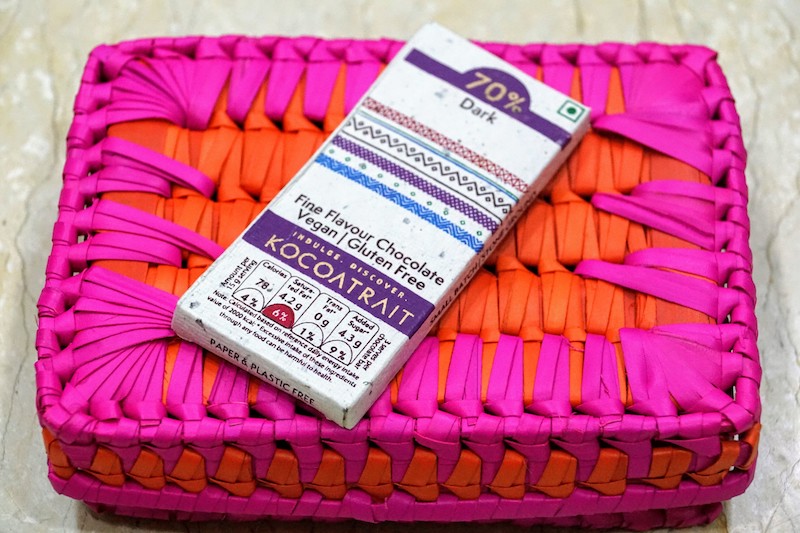 When did you think to start Kocoatrait?
We operate a bean to bar chocolate making institute called Cocoashala in Chennai and we have taken part in an exhibition in Amsterdam called Chocoa representing Indian coca farmers and bean to bar chocolate brands since 2015. In 2017 we noticed that the market and need for sustainable packaging and chocolates are on the rise. That is when the seed of creating a sustainable chocolate brand was sown in our minds. We went all out to create something that our future generation will be proud of be inspired by. We were driven by the philosophy of People, Planet, and Profits (in that order). It took time to work around how we could create something that focussed on every small aspect of the brand and by 2019 we presented the world's 1st zero-waste brand at Chocoa in Amsterdam. The chocolate was showcased to the world and subsequently launched in India in July 2019. The Ambassador of India to the Netherlands, supported, encouraged, and visited us at the show.
Tell us about your chocolates
Kocoatrait is the World's 1st Zero Waste & Eco/Planet Friendly Single Origin Indian Bean to Bar Chocolate. We operate in the ever-growing sustainable luxury space. We have prevented 100 Kgs of plastic wrappers from polluting landfills! This is our measure of the impact of our Circular Economy Model on climate change!
How your chocolates are eco friendly?
We use organic cocoa beans and organic desi khandsari sugar as the base ingredients in most of our chocolates as a start. Our primary packaging uses Up-cycled cocoa shell material made using reclaimed cotton and cocoa bean shells which are usually discarded after roasting. This is our small contribution towards the planet and our chosen parameter to measure the impact of our Circular Economy Model towards climate change. The size, shape, and weight of our bars economize (in fact made smaller) to ensure that the least amount of packaging material is wasted in die-cutting, etc and the volumetric weight from a transportation perspective is minimized. We print using water-based ink. In our e-commerce shipments, we have replaced plastic bubble wraps with paper bubble wraps and plastic tapes with paper tapes.
What is the market share for vegan chocolates in our country? How is the world treating and consuming vegan chocolates?
The Indian vegan chocolate market is in its nascency. All dark chocolates usually are vegan. However, it is important to read the back of the pack to confirm this. Several mass-market brands that offer dark chocolates and which consumers perceive as vegan actually not vegan. The share of vegan "pure" chocolates in India by volume could be less than 1% but is growing at more than 100% year on year. In the recent past, the shift to veganism and also celebrities adopting this lifestyle has caused this increase in awareness. Adding milk from dairy source to chocolate, the health benefits available in cocoa is not absorbed by the body. Hence we will see a lot more vegan chocolates being offered going forward in India and around the world.
Is there any government guidelines for chocolate making?
There are clear and strict guidelines set by the government (FSSAI) when it comes to chocolate making in India. These almost match the international codex standards barring some very minor differences and mostly labeling related which are country-specific. Most chocolate brands aim to follow good manufacturing practices (GMP) and use ingredients clearly allowed and specified by FSSAI.
Do you claim that you are the first and only certified chocolate taster in India? Who gives a certificate? Tell us something about yourself, about your training
The chocolate taster certification course is offered by the International Institute of chocolate and cacao tasting (IICCT), UK. They are based in London. It is true that I am the first certified chocolate taster in India. However, I am no more the only chocolate taster who is certified in India. Our institute Coco Shala has collaborated with ICT and we have hosted two batches of chocolate taster certification program here in Chennai in 2018 & 2019. We have now trained and certified 10 Indians in this process. The other participants were from across the world. As a background, I am a business management professional with career experience in retail business management consulting. I have assisted in setting up and have worked with retail organizations in India and overseas. For the last eight years, my focus has been cacao and bean to bar chocolate.