It is not just Bollywood sensation Shilpa Shetty who had declared intentions to loot Uttar Pradesh and Bihar thus: Mai Aayi hoon UP, Bihar Lootne! Now, it is the turn of the All India Majlis Ittehadul Muslimeen (AIMIM) president and Lok Sabha Member from Hyderabad Asaduddin Owaisi to loot Uttar Pradesh (UP) politically and capture the hearts of the UPites! The learned Barrister Asaduddin Owaisi stormed into UP for the first time after capturing 5 seats in the Bihar Legislative for the AIMIM. He made a grand entry from the Varanasi Airport. The last time this airport had seen a vast surge of crowds was when Prime Minister Narendra Modi visited Varanasi – his home constituency. Those who received Asaduddin Owaisi at the Varanasi Airport included his alliance partner and chief of the Suhel Dev Bharatiya Samaj Om Prakash Raj Bhar and his supporters.
Speaking to reporters outside Varanasi Airport, Asaduddin Owaisi disclosed that the purpose of his visit to UP is to strengthen the AIMIM in the state. He recalled that when Akhilesh Yadav was the Chief Minister, he was stopped 12 times from coming to UP, and about 28 times permission to hold public meetings was denied. He informed that the AIMIM has firmed its feet after this.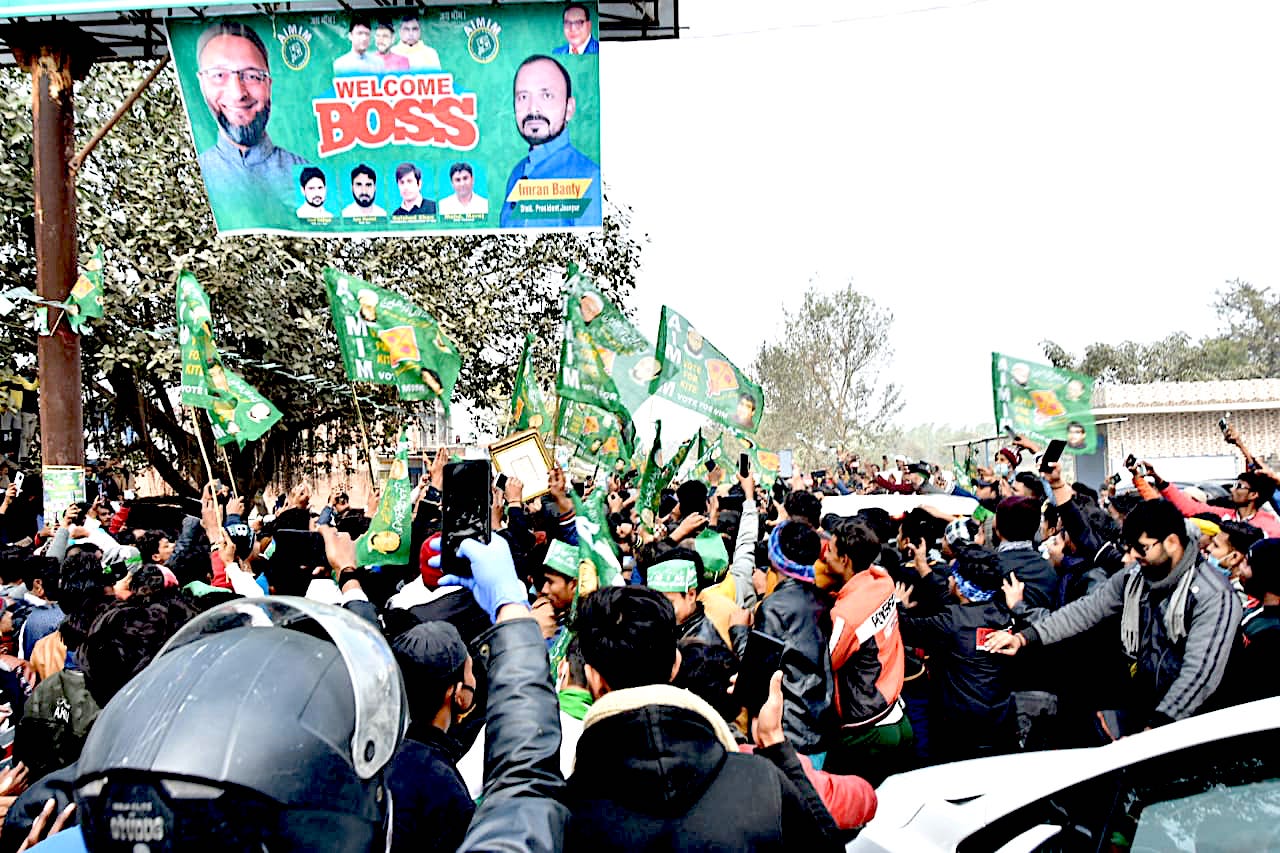 Asaduddin Owaisi left for Jaunpur in a serpentine entourage. After a group meeting in Jaunpur, he proceeded to Mahul in Azamgarh, which is the hometown of the UP Majlis unit president Mohammed Shaukat. He was received by thousands of sloganeering supporters in this politically sensitive and active district of Uttar Pradesh. Women climbed on to the rooftops to catch a glimpse of Asaduddin and to shower flowers on him. Owaisi met Mufti Azmathullah to condole the death of his father Mufti Abdullah. He toured the Madrasah Baitul Uloom. He held a group meeting of party leaders from Azamgarh. He met the local people in Gorini.
Those who accompanied Asaduddin Owaisi included UP Majlis secretary Ghulam Sabir, party spokesman Adeem Alwi, Varanasi Majlis unit Zahed Khan, UP Majlis unit secretary Irfan Pathan, Haji Ilyas, Shoeb Khan, and others. The Majlis chief returned to New Delhi from Varanasi in the evening.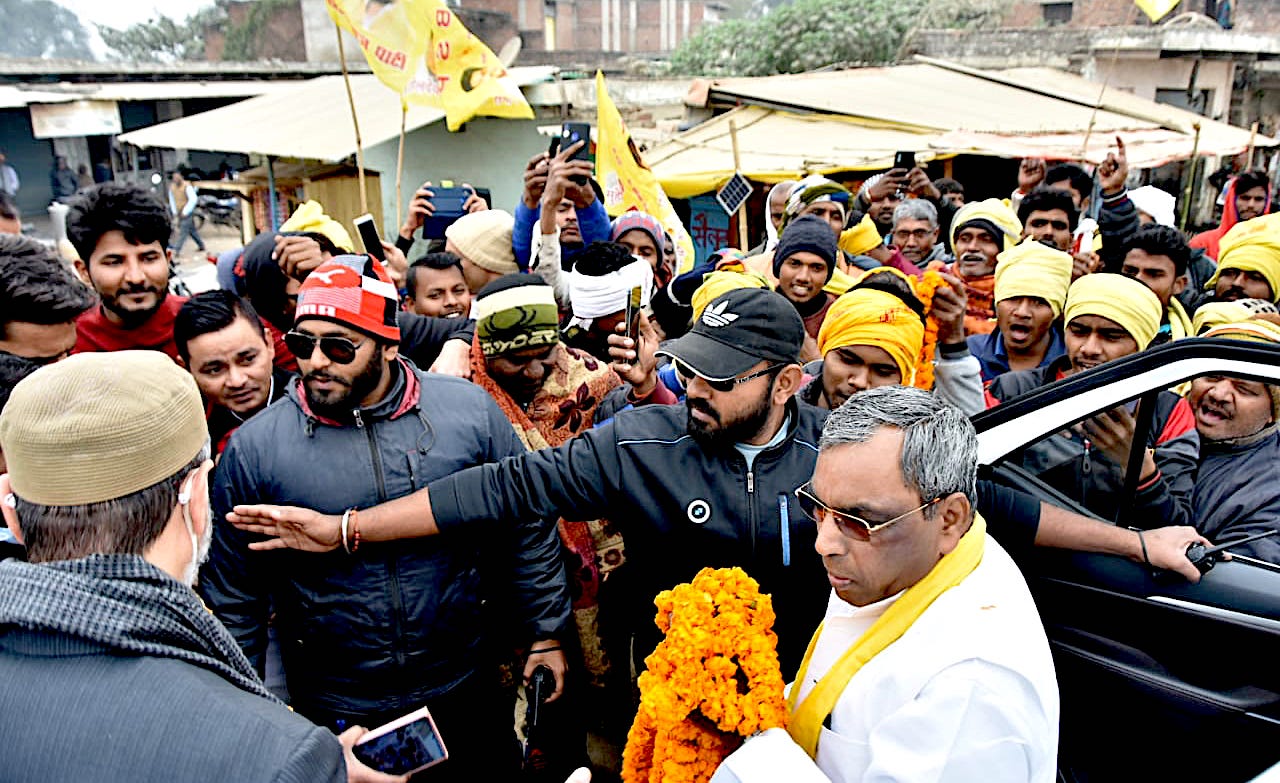 It is significant to recall that Majlis in the 2017 municipal polls had won 29 seats out of 78 it had contested in UP. The party had won 11 seats in Firozabad and three in Mahul, Azamgarh. The party also bagged two seats each in Sambhal, Amroha, Meerut, and Baghput and one each in Dasna Ghaziabad, Kanpur, Bijnor, Allahabad, and Sitapur. This was even before Asaduddin Owaisi made his entry into Uttar Pradesh.
It is politically relevant to know why Asaduddin Owaisi chose Azamgarh and Mahul to make his political foray into UP. Azamgarh though known for great political and literary figures became notorious and it was much maligned as the native place of the gangster Abu Salem. Azamgarh has also been called the Aatankgarh (the hub of terrorists) by followers of Godse's extremist ideology. Mahul is a communally sensitive village where riots take place on petty issues like kite flying. The Gau Raksha mafia allegedly attacks innocents without any fear of the law.
It remains to be seen how the Gorakhpur guy with a clean-shaven head takes on the bearded Asaduddin Owaisi? Will, the Majlis chief be allowed to sing all the way:
Oye Ramta Jogi, Oye Ramta Jogi! (O Wandering Mystic!) Why are you running after power and chanting Rang De Tu Mohe Gerua? Uttar Pradesh looks better only in the pluralistic tricolor of our national flag!