The laying of the foundation for a mosque at the Telangana State Secretariat is slated for 26th February 2021 at 4 p.m. The All India Majlis Ittehadul Muslimeen (AIMIM) legislators Syed Ahmed Pasha Quadri and Ahmed bin Abdullah Al Balala along with a delegation of the Muslim religious leaders called on a team of ministers – Home Minister Mohammed Mahmood Ali, Minister for Minorities K. Eashwar, Minister for Animal Husbandry Talasani Srinivas Yadav. At the meeting, it was decided to hold the foundation laying ceremony on the above-mentioned date.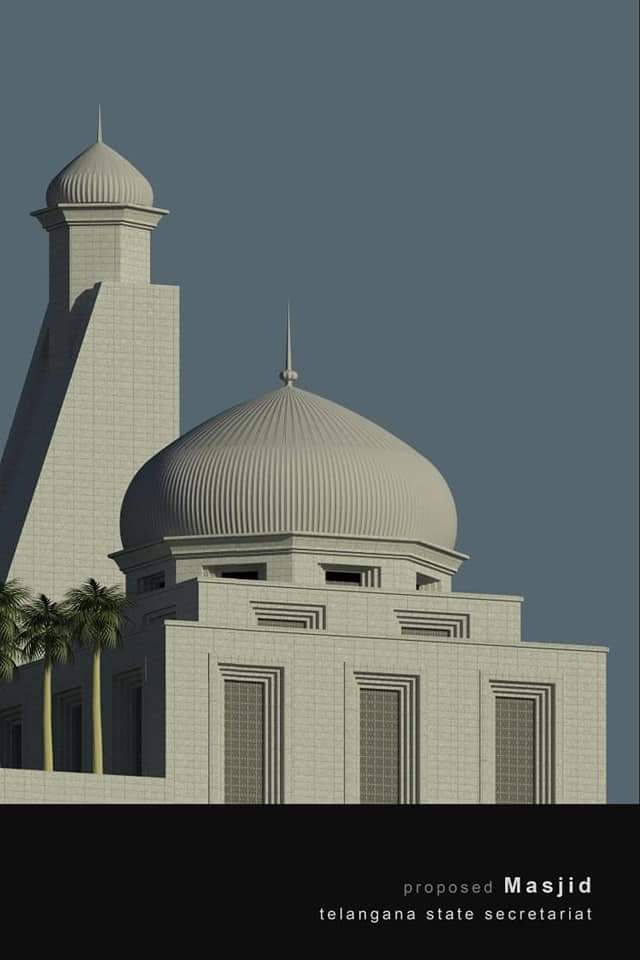 It may be recalled that two mosques were damaged and later pulled down during the dismantling of the State Secretariat to cater to the whims and fancies of the Telangana State Chief Minister K. Chandrasekhar Rao's superstitions to build a Vastu-compliant Secretariat. A temple was also damaged, which is also to be re-built. The original plan was to rebuild the religious structures with the foundation ceremony to be held in October 2020. Hyderabad was ravaged by a huge deluge and later elections to the Greater Hyderabad Municipal Corporation (GHMC) were held. The deluge and the elections delayed the foundation laying ceremony.
The Chief Minister K. Chandrasekhar Rao had asked AIMIM Floor Leader in Telangana Legislative Assembly Akbaruddin Owaisi to submit a plan for the proposed new mosque. The plan was submitted to the government. A copy of the plan and a picture of the proposed mosque can be seen here. The mosque will also contain the residential quarters of the Imam and Muezzin of the mosque. After the construction of the mosque, it will be handed over to the Telangana State Waqf Board.
It remains to be seen if the KCR Government lives up to its delayed promise of reconstructing the places of religious worship. The delay has caused apprehensions in the mind of the general public in Hyderabad.