'Why don't you start by saving the Indian soil from Muslim blood spilled by your people? You are not welcome in Oman.'
'You aren't welcomed in Oman, neither people who follow your extremist ideology. Kick out Indian ambassador. Free Oman from Hindu Indian killers of Muslims.'
'Why is he allowed to come to our country??? Please have some sense of mind. We don't need someone like him here. #Sadhguru Not Welcome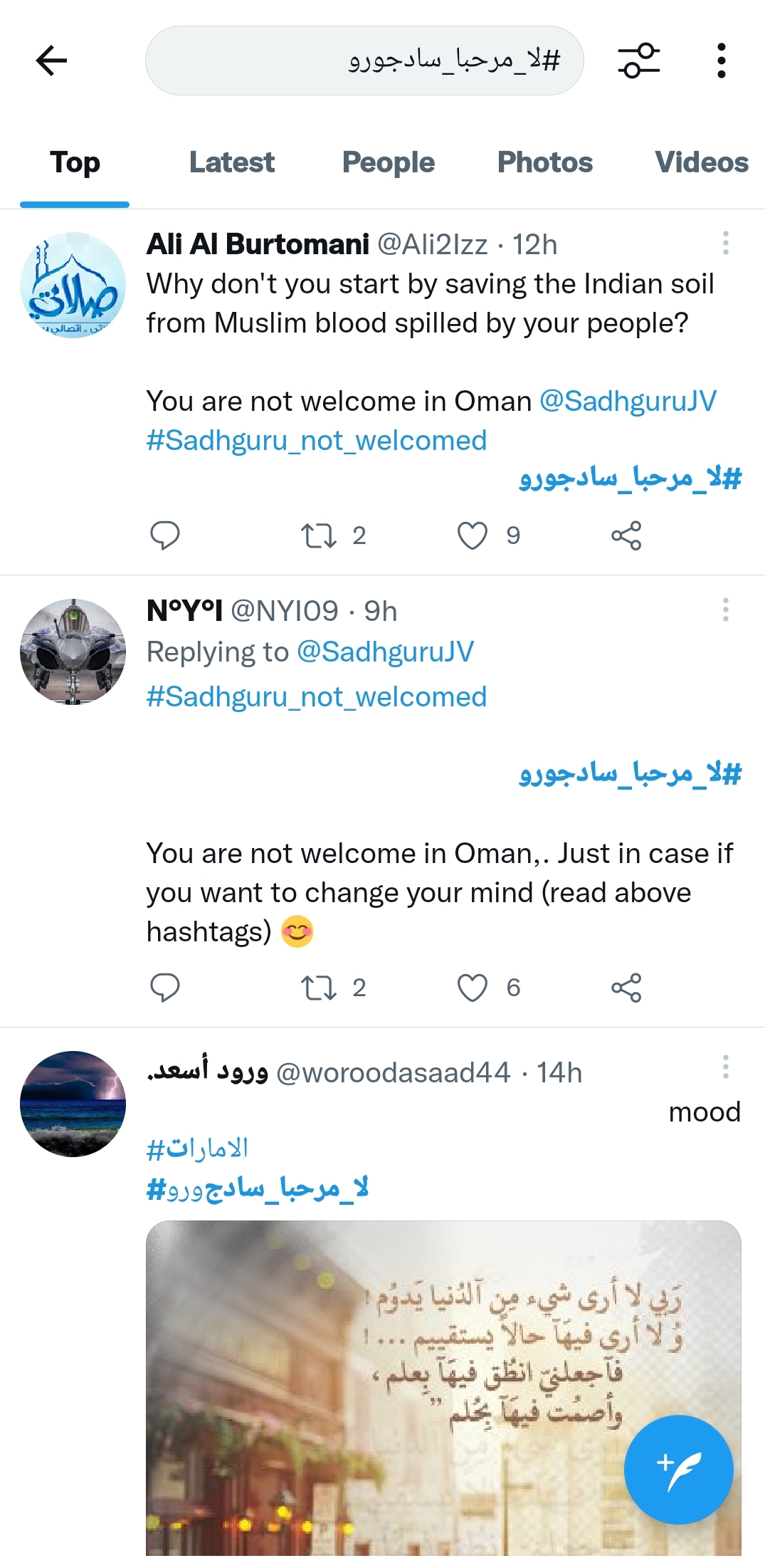 '#LaMarhaba_Sadhguru (#لامرحبا_سادجورو) or Sadhguru is not welcome' is trending on the social media in the Sultanate of Oman. A large section of the Omanis are incensed with media reports that Sadhguru @Jaggi Vasudev is visiting the Sultanate of Oman on the pretext of planting trees. There is a heavy resentment among the Omanis against the anti-Muslim violence, lynchings, desecration of mosques and mausoleums of Muslim saints and graveyards of common Muslims, bulldozing of Muslims' properties, and arrest of Muslims under stringent sedition laws in different states of India, particularly in the states ruled by the pro-Hindutva and anti-Muslim Bharatiya Janata Party (BJP).     
إنني لأشكر أعظم الشكر وأجزله جميع الإخوة والأخوات الغيورين والغيورات على حرمات دين الله تعالى، الذين استنكروا أن يأتي إلى هذا البلد المسلم العريق رجل لا يؤمن بالله واليوم الآخر ليبث بين أهله سموم فكره الموبوء. pic.twitter.com/wq7OIrvlbJ

— أحمد بن حمد الخليلي (@AhmedHAlKhalili) May 19, 2022
Historically, Omanis have been very enlightened people. They are very well aware of the oppression of the Indian Muslims and Sadhguru's Islamophobia, who has become notorious for his anti-Muslim stand on various issues including the Hijab, Muslims' lynchings, Babri Masjid, and the other many important issues if one peruses the social media scene. They know that actually Sadhguru is pedaling hate even in Muslim countries that he is visiting in the name of soil protection and tree planting. Jaggi Vasudev or Sadhguru the fake guru varnishes his superstitions under the garb of good vocabulary and a Western accent. He has been able to create a mirage — of being any different from other 'fake babas' on the pliant TV channels owned by the Hindutva corporate houses engaged in anti-Muslim programs every day.
The Ducati-riding misogynist guru, Sadhguru hates women. "Women should have rights, I don't like that." He explained to young women students of Mount Carmel College in Bengaluru: "Most of the feminists, they didn't live well, it's because they talked and talked and talked." He went on to add that "it isn't the lack of men that made their lives empty, it's their choice of living in constant 'reactionary' mode." This also explains Sadhguru's anti-Hijab stand.
Even the Isha Foundation's 'Rally For River' project has invited a lot of flak from the scientific community and conservationists. Sadhguru's project does not consider things like damming up, removing pollutants, and diversion. What can he teach to Omanis about planting trees? Absolutely nothing! Omanis protect the environment and plant trees on their own. Omanis are Muslims, who follow Prophet Muhammed (Peace Be Upon Him) in all aspects of life including the protection of the environment.  The noble companion of Prophet Muhammed (PBUH), Hadhrat  Anas ibn Malik reported: The Messenger of Allah, peace, and blessings be upon him, said:
"Even if the Resurrection were established upon one of you while he has in his hand a sapling, let him plant it."
Source: Musnad Aḥmad 12902
Grade: Sahih (authentic)
عَنْ أَنَسِ بْنِ مَالِكٍ قَالَ قَالَ رَسُولُ اللَّهِ صَلَّى اللَّهُ عَلَيْهِ وَسَلَّمَ إِنْ قَامَتْ عَلَى أَحَدِكُمْ الْقِيَامَةُ وَفِي يَدِهِ فَسْلَةٌ فَلْيَغْرِسْهَا
12902 مسند أحمد
20/251 المحدث شعيب الأرن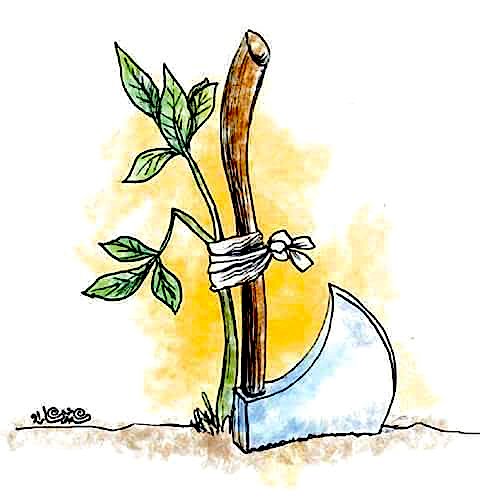 So, even if it is the doomsday or the last day of this universe, plant a sapling. Protecting the environment is a holy command from the Prophet Muhammed.  More than 1400 years ago, Muslims were shown the way to protect the rivers and asked not to pollute water sources. This leaves nothing for Sadhguru to add from his half-baked knowledge. The issues associated with the Rally For River project forced some environmental experts to write a letter to actor Leonardo Di Caprio, urging him to withdraw his support to Isha Foundation. One of the major concerns raised by the experts in the letter was the Isha Foundation's myopic view of the problem that seeks to oversimplify a complicated issue.
The actual purpose of Sadhguru's visit is allegedly to collect funds from the Hindutva diaspora in Oman for the Hindutva organizations, which are allegedly routed through his frontal bodies. He had spoken against the continuation of Article 370 in Kashmir. He supported Indian Army Major Leetul Gogoi's tying of a Kashmiri Muslim youth to his jeep in 2017. Sadhguru courted controversy when he called a Muslim student Bilal bin Saquib at the London School of Economics (LSE) 'Taliban' and 'Talibani!' After a strong backlash from the students union at the LSE, he apologized. The LSE had condemned Sadhguru's comments as Islamophobic.  Sadhguru cannot hide his contempt for Muslims and the medieval Muslim kings and emperors of India, who he calls marauders. He spread his venomous hate against the Muslim rulers even at the World Economic Forum (WEF) in Geneva.
Prophet Muhammed (PBUH) prayed for the good-natured people of Oman. The goodness is seen all over the country. They stand for truth. The Grand Mufti of the Sultanate of Oman Mufti Sheikh Ahmed bin Hamed Al Khalili said in an official message displayed on Twitter in Arabic, without naming Sadhguru:
I would like to thank all the brothers and sisters who felt about Islam and refused a non-Muslim person to come to their country and spread his poisonous ideas. I received a lot of messages as it is a sensitive case and I would like to say that I am aware of what is happening and it is my duty and responsibility to call the authorities to strongly stop this horrible issue. I got a good response from the authorities. I hope that truth will prevail and I refuse to accept anything that goes against my genuine religion — Deen Al Haneef. Despite heavy resentment from the Omanis about Sadhguru's planned visit, it is learnt the Prime Minister Narendra Modi is exerting pressure to make sure that his Hindutva partner Sadhguru's visit takes place. The Indian Embassy in Oman is lobbying hard for the visit. Huge money is collected in the name of tickets.
The watchers of Hindutva mischief are on guard in Oman. They do not want Sadhguru to enter Oman and claim that he found a Shivling in Oman as he claimed that he saw a Shivling in Konya, Turkey, during his visit to the Architectural Museum ground there. Tolerant Oman has already allowed a Shiv temple in Muscat. There is a Church too.
According to well-known writer and commentator Girish Shahane, 'Sadhguru is as slippery when it comes to defining his faith as he is in defining his politics. "This is a godless culture, there has never been an idea of god in this culture", he argues, and yet contends, contradictorily, that the Hindu god Rudra is the original creator of the universe. Let Sadhguru come to a conclusion about whether there is a God or not? If there is no god in Hindu culture, then why are Hindutva bigots claiming mosques as Hindu temples where they worship different gods? If there is a God, which one is that? — Rudra or somebody else!
There are demands that similar steps may be taken by the authorities to ban entry into Oman, not only of Sadhguru but other Hindutva Islamophobic elements like the so-called Yoga gurus Sri Sri Ravi Shankar and Baba Ramdev. 
For the unversed, the Sultanate of Oman has initiated a brilliant plan to plant 10 Million trees in Oman to reduce the carbon print. The Environment Authority in Oman is doing a stupendous job. The Al Isbaq  (Euphorbia larica Boiss), a perennial plant that has many branches without leaves is a bulwark against soil erosion and has mushroomed widely since ancient times. So, Sadhguru can contribute nothing to Oman regarding tree plantation and soil conservation.
There are conflicting reports about Sadhguru's visit. Some people on Instagram say that Sadhguru's visit is being canceled. It remains to be seen if the visit is really canceled or if Prime Minister Narendra Modi will bulldoze his way to facilitate his Hindutva partner Sadhguru's visit despite heavy resentment about his visit to Oman.