Captain Abbas Ali, a distinguished freedom fighter, a close associate of Subash Chander Bose, a fighter of the Indian National Army, and a hardcore socialist, was the son of Ayyub Ali Khan, a Dafadar officer in the British Indian army. He was born on 3rd January 1920 at Khurja, Bulandshahr (U.P.). Belonged to the Rajput Muslim family of freedom fighters, his grandfather Rustam Ali Khan was hanged by the British army at Kala Aam in Bulandshahar (United Province, now Utter Pradesh) after the 1857 mutiny.
Abbas Ali was influenced by the revolutionary ideas of Bhagat Singh since his school days. As a school student, he also participated in a protest march on 25th March 1931 at Khurja to denounce the death sentence to Shaheed Bhagat Singh. Soon after Bhagat Singh's hanging, he joined Naujawan Bharat Sabha established by Bhagat Singh, and actively participated in the activities of NBS, while he was in school. According to Qurban Ali, renowned journalist and son of Abbas Ali, while paying homage to his father said, his father sings the following Urdu couplet:
بھگت سنگھ تمھیں پھر سے آنا پڑے گا
حکومت کو جلوہ دکھانا پڑے گا
اے دریائے گنگا تو خاموش ہو جا
اے دریائے ستلج تو سیاہ پوش ہو جا
بھگت سنگھ تمھیں پھر سے آنا پڑے گا
حکومت کو جلوہ دکھانا پڑے گا
Translation:
Bhagat Singh You will have to come again Will have to show your strength to the  government
O river Ganga, be silent
O river Sutlej, turn black
Bhagat Singh You will have to come again  Will have to show your strength to the government
After matriculation, in 1937, from JAS High School of Khurja, he went to Aligarh Muslim University for higher studies. While pursuing his studies at AMU he came in contact with the great communist leader of his time Dr. Kunwar Muhammed Ashraf. On his inspiration, he first joined All India Students Federation (AISF) a student wing of left parties established in 1936. He later joined British Army and associated with Royal Indian Army Supply Corpse (R.I.A.S.C) in 1939 as a junior commissioned officer (JCO) and posted at various parts in United India and South East Asia during Second World War II (1939-45).
When Japanese forces attacked British forces in South East Asia, being part of British forces, Capt. Abbas Ali fought with the Japanese forces but when General Percival surrendered with more than one lakh British army. after the Japanese destroyed two major British warships. Capt. Abbas Ali became a prisoner of war (POW) with the Japanese. During this captivity, he joined Indian National Army (INA) or Azad Hind Fauj established by General Mohan Singh. In 1945, he played a crucial role in INA's programme 'Dilli Chalo' under the leadership of Netaji Subash Chander Bose. He fought with the Indian Army in Arakaan but when the Japanese surrendered, he was arrested along with 60000 fellow soldiers of INA. He was court-martialed and sentenced to death.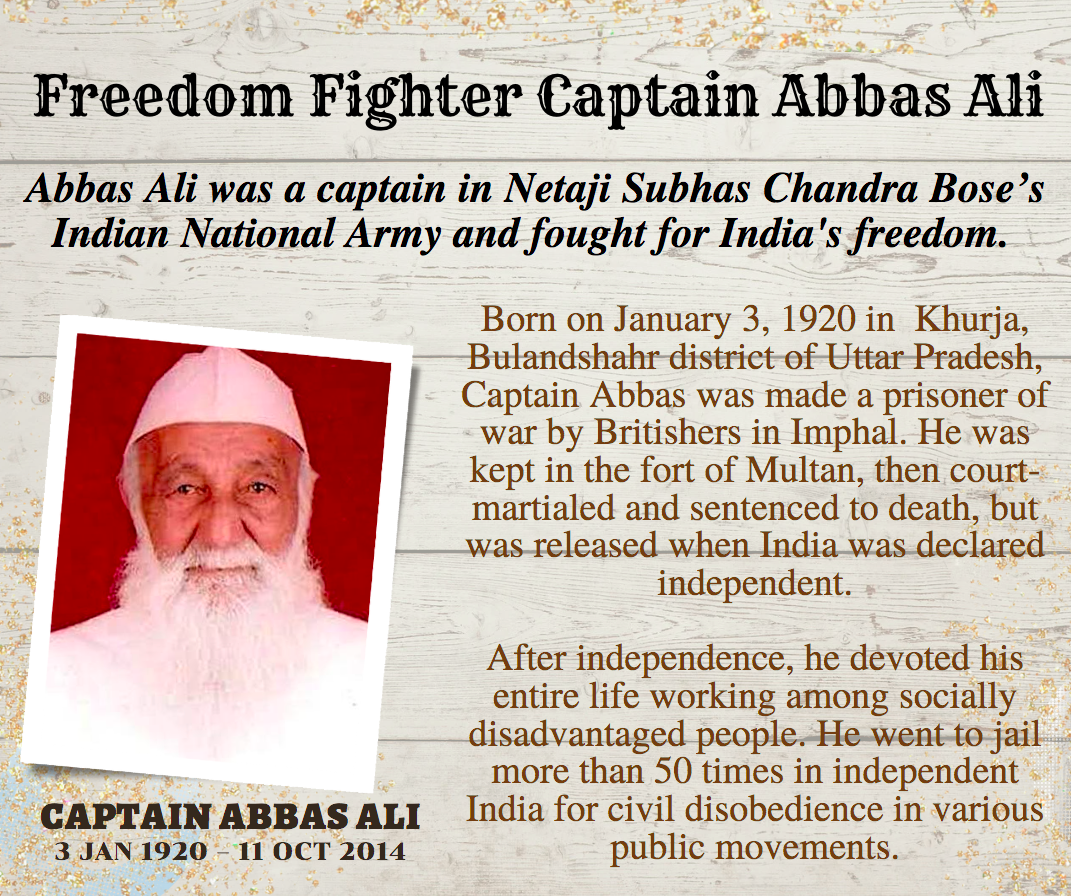 After Independence in 1947, he was released by the Nehru Government then he joined mainstream politics. He was a hardcore socialist; and in 1948 he joined the socialist party of Acharaya Narendra Deva, Jayaprakash Narayan, and Dr. Ram Manohar Lohiya. He was General Secretary of the Uttar Pradesh unit of Samyukta Socialist Party (SSP) in 1966-67, and of Socialist Party in 1973-74. In 1967, when he was state secretary of Samyukta Socialist Party, SSP, he played a key role in the formation of the first Non-Congress Samyukta Vidhayak Dal (SVD) government in Uttar Pradesh led by late Chaudhry Charan Singh, who later became Prime Minister of India for a brief stint. During the Emergency, he was imprisoned for 19 Months. After the emergency, he became the first President of the UP unit of Janta Party. In 1978 he was elected to UP Legislative Council for six years. He was a member of UP Sunni Central Waqf Board for six years. He passed away on 11th October 2014 after a brief illness at Aligarh's Jawahar Lal Nehru Medical College.
References and Further Readings:
Ali, Captain Abbass. Na Hoon Kisi Ka Dast-e-Nagar-Mera Safarnama (Khudnawisht). Rajkamal Publication, Delhi, 2009
Ali, Qurban. Captain Abbas Ali: a true patriot and son of the soil.