Jamia Journalism Alums support AJK MCRC students in financial need with Rs 50,000 each
New Delhi: Four students of AJK Mass Communication Research Centre (MCRC), Jamia Millia Islamia, have been awarded the second Professor Obaid Siddiqui Memorial Scholarship by the Jamia Journalism Alums Group this year.
Three first-year students and a second-year student of the MA Convergent Journalism course have received Rs 50,000 each as a part of the scholarship programme.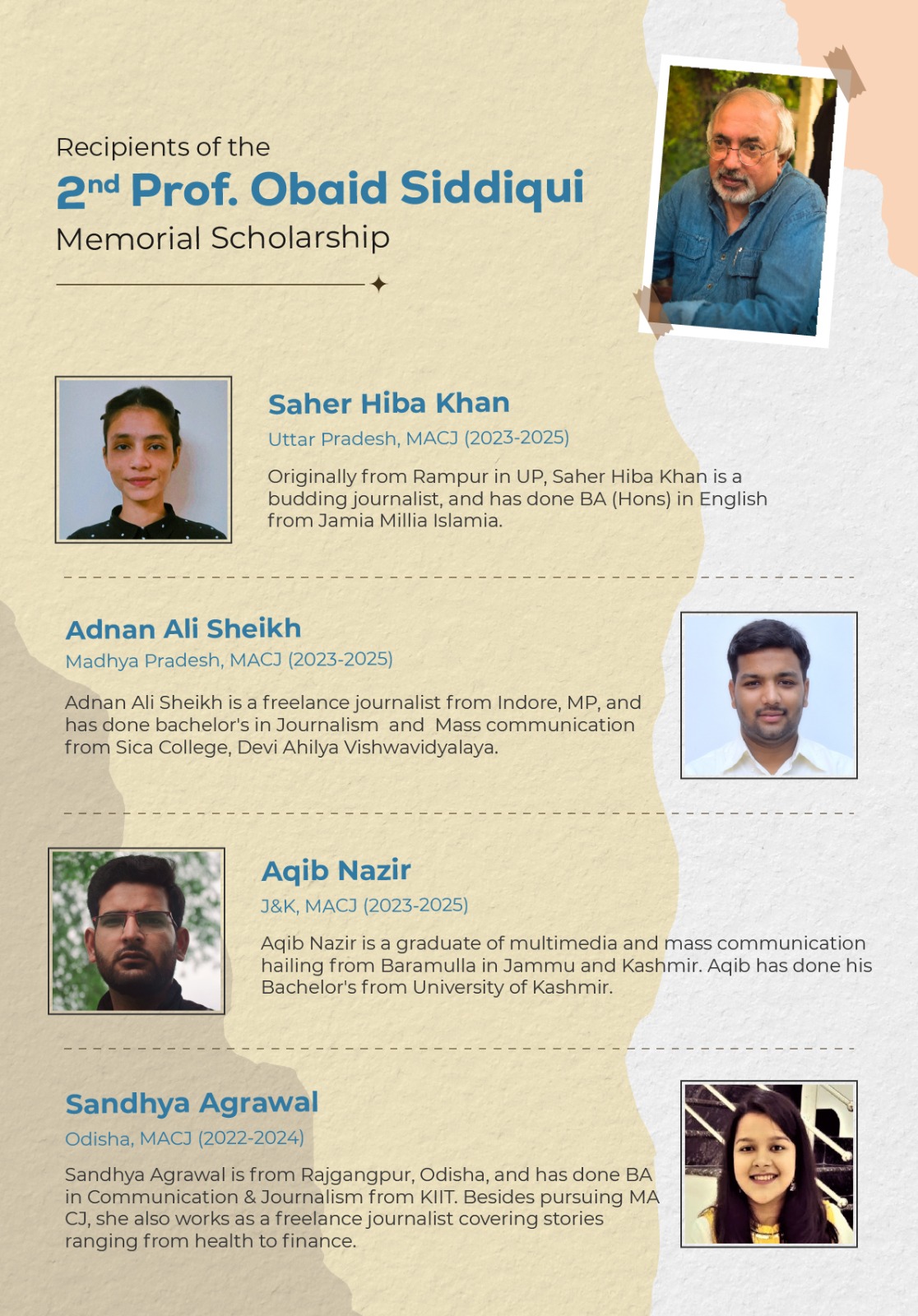 The recipients Aqib Nazir, Adnan Ali Sheikh, Saher Hiba Khan, and Sandhya Agrawal were shortlisted from 22 applications by the scholarship coordination committee based on the applications, reference checks, and interviews. Last year, the scholarship was awarded to Aasma Qureshi, who was admitted to MA Mass Communication programme covering her full course fees.
One of the recipients, Aqib Nazir, who hails from Baramulla, in Jammu and Kashmir, said, "I am deeply grateful for the support I received in making my educational aspirations a reality. This scholarship holds immense significance for me, for it will alleviate my financial burden and enable me to pursue my studies in (MA) Convergent Journalism at Jamia."
The scholarship has been constituted by the Jamia Journalism Alums Group in memory of Professor Obaid Siddiqui, who launched the Convergent Journalism Programme at AJK MCRC and was a former director of the Centre. Professor Siddiqui passed away in 2020. The annual scholarship is awarded to candidates who have secured unconditional admission at AJK MCRC and existing students of the Centre who are in financial need.
"Congratulations to the four scholarship recipients. We are excited to welcome the newly admitted students into the MCRC fold. We look forward to seeing them build their skills and follow their interests," said Zehra Kazmi, 2009-11 batch MACJ alumni and a member of this year's scholarship coordination committee. She also thanked the alumni of MACJ for extending support to the scholarship for the second year in a row.
Jamia Journalism Alums Group is an informal association of former and outgoing students of the Masters in Convergent Journalism (MACJ) programme of the university. Initiated as a post-graduate diploma in 2005, the Convergent Journalism programme took the shape of a master's course in 2007.
Alums of the Convergent Journalism programme are currently working in renowned news outlets like the Washington Post, New York Times, BBC, DW, Times group, Hindustan Times, The Quint, and The Wire, among others. They have also been recipients of the Ramnath Goenka Award, Statesman Award, UNFPA Laadli Award, and New India Fellowship, among others.