New Delhi: SSI MANTRA (Multi-Arm Novel Tele Robotic Assistance), the medical robotics system was launched in the presence of Amitabh Kant, CEO, NITI Aayog via video conferencing in the Capital recently. The man behind this first South Asia's robotics innovation is Dr. Sudhir P Srivastava.
The MANTRA system was recently utilized for the first human pilot study at Rajiv Gandhi Cancer Institute (RGCI). Where surgeons successfully completed 18 complex Urology, Gynaecology, and General Surgery procedures in less than a month. Dr. Sudhir Rawal, Medical Director, RGCI said, "The dedicated team of engineers and scientists at SS Innovations have been working hard under Dr. Srivastava's guidance for the past few years to develop a cost-effective robotic surgical system. I have been closely involved in the clinical trials myself, and the results have been outstanding."
Despite decades of successful robotic-assisted surgeries globally that have positively impacted millions of patients, access is scarce at large. The dominant current robotic system is expensive and associated with a steep learning curve, resulting in the limited availability across the world of over six billion population.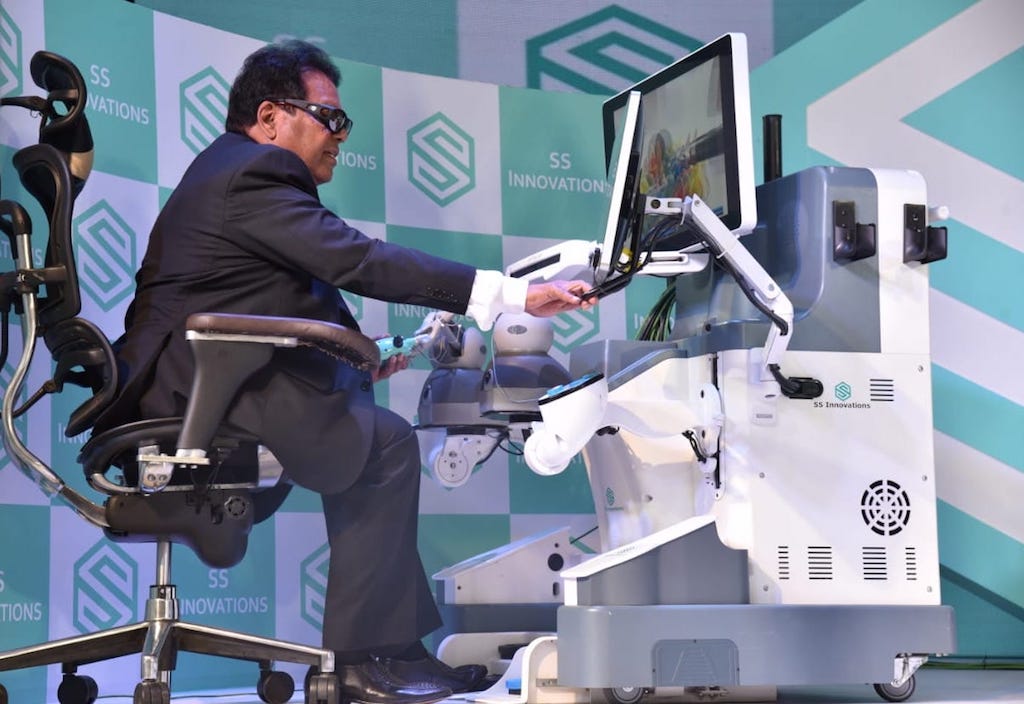 Taking this up as a challenge and leading with a vision to offer minimally invasive robotic surgery solutions, Dr. Sudhir P. Srivastava and his team presented a live demonstration at the launch also. Dr. Sudhir said, "Robotics shall be the future of surgery, and my vision is to create a technologically advanced system that will be cost-effective, easy to use and can be applied to all surgical specialties. Thus, benefitting most patients around the world. Compared to conventional surgery, robotic surgery results in smaller incisions, that reduce pain, scarring and lead to a quicker recovery."
He is one of the early pioneers in minimally invasive and robotic cardiac surgery. He has performed over 1,400 robotic cardiac surgical procedures in the expanse of his career as a surgeon. He wants to build an affordable surgical robotic system that is easier for surgeons to use and provides easier access for patients around the world.
The SSI Mantra surgical robotic system can be utilized for all major surgical specialties including Urology, General Surgery, Gynaecology, Thoracic, Cardiac, and Head & Neck Surgery. The SSI Mantra System shall additionally have automated enabling technologies for coronary bypass and valve operations. SS Innovations was established by Dr. Sudhir Srivastava in 2016 with the goal of providing an advanced, cost-effective surgical robotic system.