"A friend in need is the friend indeed". The well-known saying goes well with India's foreign partners like Turkey.
Recently, when India faced a catastrophic second wave of COVID-19, and the fatalities rose to a peak, Turkey sent aid to India to fight COVID-19. Turkey sent 2 planeloads of medical aid to its centuries-old friend India.
The aid included 630 oxygen tubes, five oxygen generators, 50 ventilators, and 50,000 boxes of medicines.
It was reported by Anadolu Agency that the COVID aid material packed in boxes, bore the words of 13th-century Sufi poet Rumi – "There is hope after despair and many suns after darkness".
India's Ministry of External Affairs spokesman, Arindam Bagchi thanked the Turkish Red Crescent Society via a tweet for the supplies.
"Appreciate this gesture of solidarity from the Government of Turkey," said Bagchi.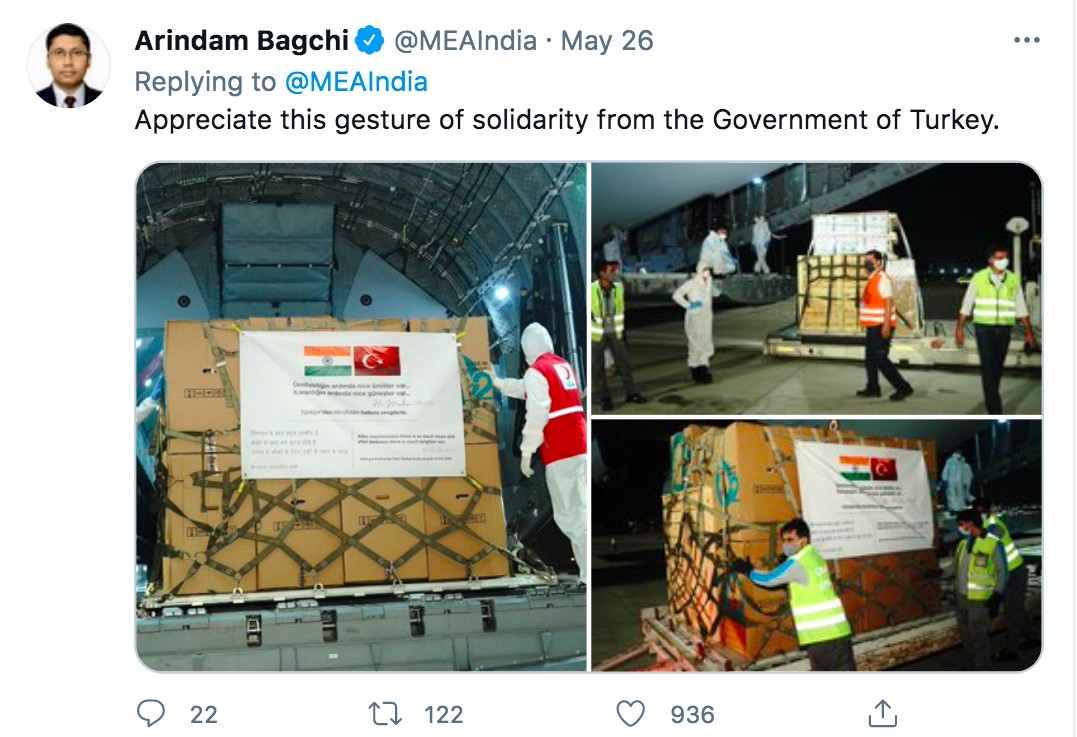 Ibrahim Kalin, Turkey's presidential spokesman, oversaw the delivery of the aid.
"Turkey supports communities across the world in their fight against the Coronavirus pandemic. We are proud to stand with the people of India in these trying times," Kalin tweeted.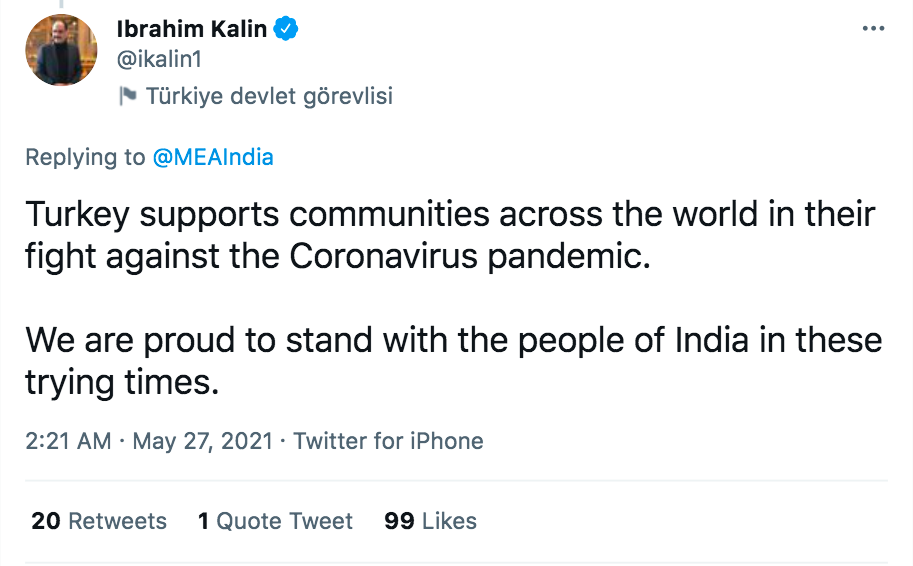 Dr. Kerem Kinik, president of the Red Cross and Red Crescent Federation quoting the tweet of Bagchi said, "Dear Mr. Bagchi, This is mutual solidarity of friendship. We can't forget your hands that you extended to us such as the Indian Medical Mission, led by Mukhtar Ahmed Ansari, who came to Turkey to treat the wounded Turkish soldiers of the Balkan Wars of 1912-13."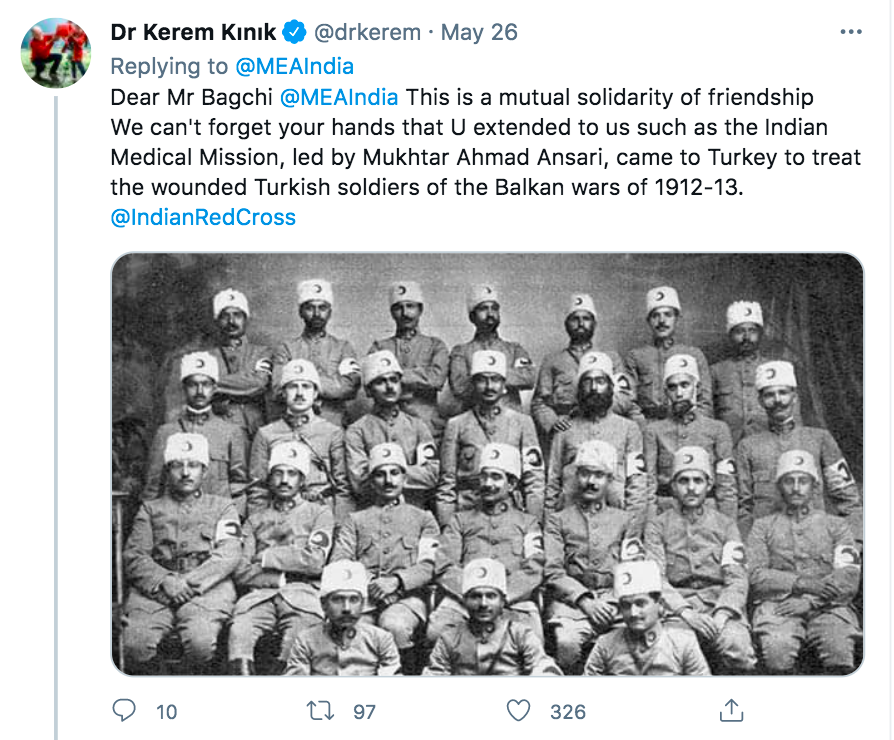 India's ambassador to Turkey, Sanjay Panda thanked Turkey for the help and tweeted that the medical supplies were "critical."
"Thank you, Turkey, for being there for India during these challenging times," he tweeted.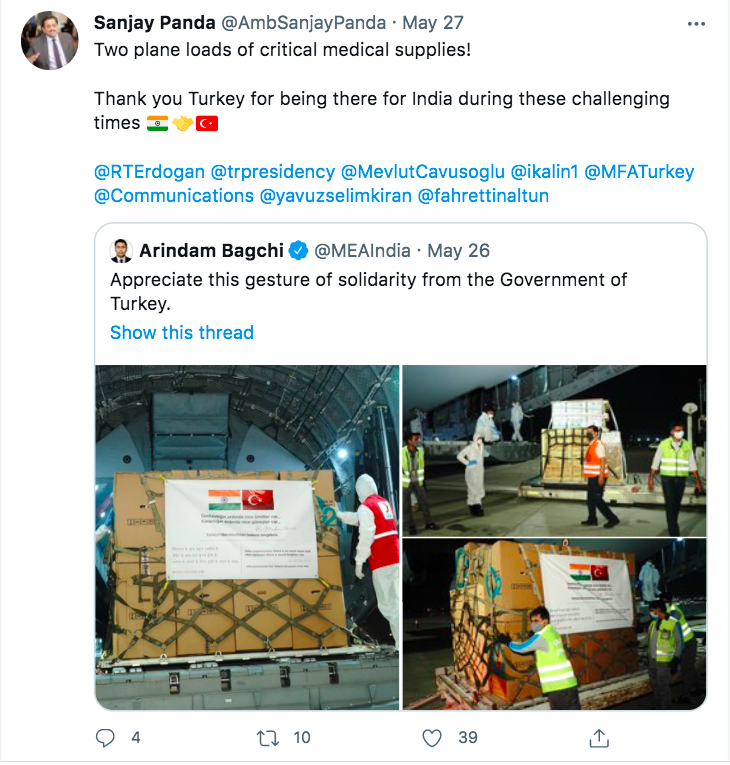 The Turkish aid was seen by many media reports as a revival of the bilateral ties as they were hit in recent years by differences on the decision of the Prime Minister of India to revoke Article 370. Recep Erdogan criticized the Indian government's handling of the situation in Kashmir. As a response to this, he was criticized by New Delhi that he is interfering in the internal matter of India.
The exchange of diplomatic missions between the Ottoman Sultans and the Muslim rulers dates back to the fifteenth century.
In a book titled 'New Perspectives on India and Turkey: Connections and Debates', edited by Smita Tewari Jassal and Halil Turan, they write, "An episode in the shared histories of India and Turkey that perhaps greatly intensified connections between them in the early 20th century is the Indian Khilafat Movement, in support of the caliphate in Turkey. "When the Ottoman emperor Abdul Hamid II launched his pan-Islamic program to protect his empire from division by the West, it evoked immense religious sympathy and support among Indian Muslims."
Burak Akçapar, Turkish diplomat, scholar, and the former Ambassador of Turkey to India; in his book, 'People's Mission to The Ottoman Empire' sheds light on the same historical bonding between the two countries. His book describes the Medical Mission sent to Turkey during the Balkan Wars (1912-13), to which Dr. Kerem Kinik referred in his tweet.
In mid-December, 1912, a group of doctors, male nurses, ambulance bearers, and other staff set sail from Bombay to Istanbul to join the effort to treat soldiers wounded in the Balkan War.  Three medical teams were dispatched from India by the concerned Indian Muslims.
Although the Balkan War deprived the Ottoman Empire of almost all its remaining territory in Europe, Medical Mission sent by the Indian Muslims formed a bond of friendship between the subcontinent and Turkey.
This cause was not limited to the betterment of the Turkey-India relationship but it furthered the Hindu-Muslim unity as well.
Halide Edib (Adıvar), a Turkish feminist leader and a writer referred to Gandhi as a neo-Muslim in one of her lectures in Jamia in the year 1935.
Halide Edib was hosted by M.A. Ansari for delivering a series of lectures and she was impressed by Gandhi's charisma. One of the authors has discussed this in detail in his book, 'Jamia and Gandhi'.
On 19 January 1935, Gandhi said in his presidential speech in Jamia in response to the lecture delivered by Edib, "There is an indissoluble tie that binds India to Turkey, not because we have suffered alike, but because Turkey has a Muslim population which has so much in common with India because of her millions of Muslims, who are flesh of our flesh and blood of our blood and bone of our bone. May Begum Saheba's [Halide Edib] coming in our midst result in binding Hindus and Muslims in an indissoluble bond."
Gandhi's concern about Turkey and his wish for its prosperity are evident from his writings.
On 7 September 1919, Gandhi wrote in 'Navjivan' (Gujarati), "The Turkish question concerns eight crores of Indian Muslims; and a question that concerns nearly one-fourth of the nation must concern the whole of India. It is impossible that one of the four limbs of the nation be wounded and the rest of the nation remain unconcerned. We cannot be called one nation, we cannot be a single body, if such a wound has no effect on us. Hence it is the duty of all, Hindus and Muslims alike, to understand the main points of the Turkish question."
"It is the duty of Muslims to present their case before the world peacefully but firmly and stick to it unflinchingly. There should be no exaggeration in it; nor should it be so presented as to leave room for bargaining…Like the Muslims, the Hindus and the other communities also have their duty to do. If they regard the Muslims as their respected neighbors and brethren, they should extend their full support to the latter's demand which concerns their religion. All those born in India have to live and die together. No community can rise at the cost of another, or preserve its rights if it permits those of others to be sacrificed", Gandhi wrote.
Turkey has always been an important part of the foreign policy of India. We hope that Turkey's goodwill gesture during the second wave of COVID-19 will give a new momentum to the age-old friendship between the two unique nations. According to Maulana Mazharul Haq, "Indian Muslims have been associated with Ottoman Muslims on religious lines from the very beginning and are eager for the progress and prosperity of this country."