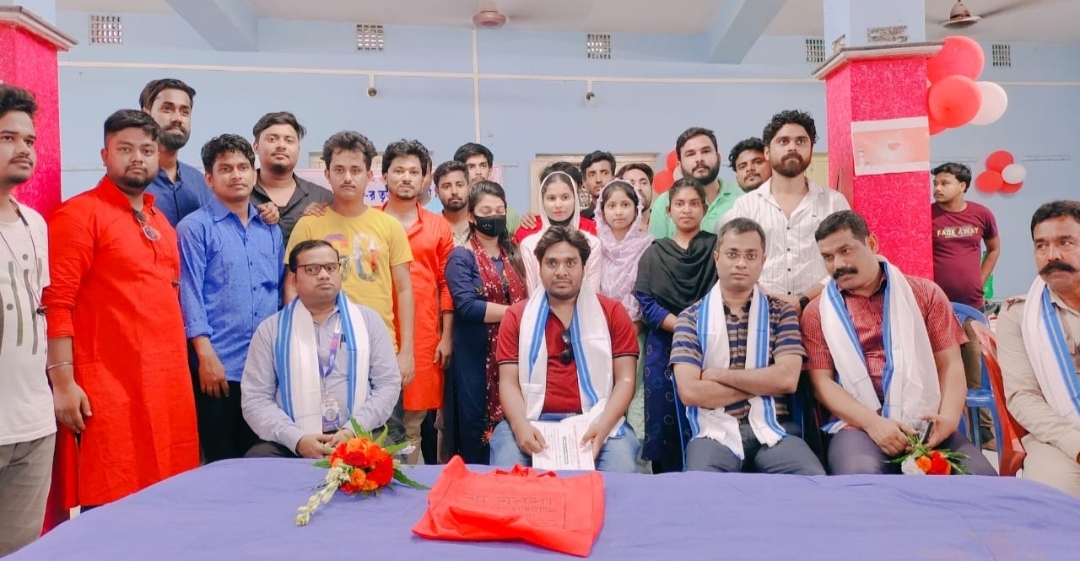 The 'Power of Humanity' celebrated its 3rd Foundation Day on June 8, 2022, by organizing a Blood Donation Camp at a lodge in Chanchal, Malda, West Bengal. The members of the organization also distributed umbrellas for cobblers and handed kurtas to autorickshaw pullers around the city. Mr. Subhendu Mandal, SDPO, Chanchal; Mr. Sukumar Ghosh, IC, Chanchal Police Station; Mr. Chandan Dey, OC, Chanchal Sub-Divisional Office, Malda, West Bengal graced the occasion.
The 'Power of Humanity', a Non-Government Organization (NGO), came into existence as a WhatsApp group on June 8, 2019 with a motive to help people around who are in a dire need of various kinds of help. The members of the group started working mainly in a few places of Chanchal. But now they have been doing excellently well in the Chanchal Sub-Division, Malda, West Bengal.
We are all born and we all have to die. This is a nature's course. Death and birth are natural but doing good deeds for humanity that what is important in our society. In the same way, the admins of the group took the initiative to help people around who are in distress. They got unbelievable responses from fellow being and people from various areas to come together and enhance their helping hand for this great cause. The group is working on humanitarian works, especially in the fields of social, cultural, education and health.
"We are feeling great that we are today completing three years of the group, the 'Power of Humanity'. We are fortunate enough that we got an opportunity to serve society. We have been constantly working on the social and health issues", said Mijanur Islam, President of the 'Power of Humanity' while another Founding Member of the Group, Mahamud Sarkar, mentor, expressed happiness about the expansion and popularity among the masses. The members of the group are increasing day by day considerably and solely engaging with social work. He further included that on the occasion of its three years of Foundation Day, we have organized multiples drives such as Blood Donation Camp, Sanitary Napkins Distribution, Free Health Camp & Food Distribution Drive. The group 'Power of Humanity' becomes a sensation among the young people and leads to various social works.
The organization did exceptional work during the Covid-19 first and second waves. The organization selflessly worked from providing oxygen cylinders to eatables to people who were in distress. They also used to distribute clothes to poor families in every festival. They regularly organize free health check-up camps, blood donation camp, education camp, and many more.
Anita Poddar, one of the members of the group expressed her gratitude to be a part of the 'Power of Humanity'. She further said that she is very much happy doing the social activities with the group.
Last but not the least, the group is not left behind in helping financially those families who were not in a position to get their daughters married. So far, the group helped seven families to get their daughters married and they are happy now.