Barrister Asaduddin Owaisi, Lok Sabha Member from Hyderabad and president, All India Majlis Ittehadul Muslimeen (AIMIM) celebrated the marriage of his second daughter Dr. Yasmeen Owaisi with Dr. Abid Ali Khan at the palatial residence – Al Siddiq, atop the enchanting hills of Shastripuram in Hyderabad on Tuesday. Telangana Chief Minister K. Chandrasekhar Rao, Home Minister Mohammed Mahmood Ali, Health Minister E Rajender, and elite of the city blessed the couple at a glittering COVID-restricted ceremony.
The Owaisi brothers – Asaduddin Owaisi, MP, Akbaruddin Owaisi, Majlis Floor Leader in Telangana Legislative Assembly, Burhanuddin Owaisi, Editor -in- Chief Etemaad Daily, Sultan Salahuddin Owaisi (junior), Dr. Ameenuddin Owaisi, Akbaruddin Owaisi's son Dr. Nooruddin Owaisi and other members of the extended Owaisi family along with Asaduddin Owaisi's eldest son -in- law Barkat Alam Khan welcomed the guests. Prominent guests who attended included Majlis MP from Aurangabad Imtiyaz Jaleel, Telangana Government chief secretary, Somesh Kumar, IAS, Municipal Administration Secretary Arvind Kumar, IAS, Director General of Police Mahendra Reddy, IPS, Hyderabad Police Commissioner Anjani Kumar, IPS, Majlis legislators from Hyderabad, religious leaders and others. Bihar Majlis president Akhtar ul Iman and Majlis MLA from Malegaon Mufti Ismail Qasimi also attended the wedding.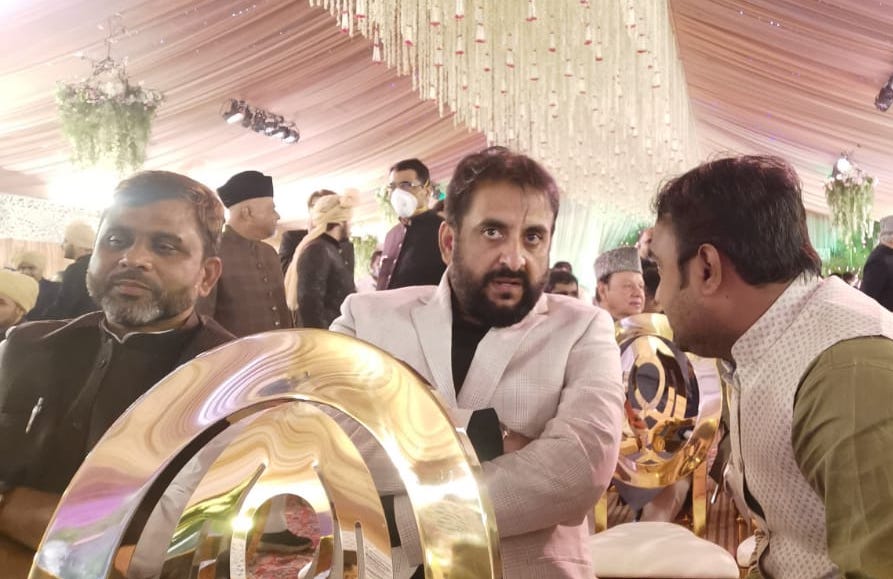 Barrister Asaduddin Owaisi has rare qualities of forgiving his bitter critics and rivals and not holding any grudges. The Almighty loves a human being who possesses these qualities. The boisterous barrister who takes the Lok Sabha on his head with his fiery oratory on any given day has a tender heart that mends fences even with conspirators who take enmity to the personal level. It may be recalled that Asaduddin Owaisi and his late father Sultan Salahuddin Owaisi were victims of a conspiracy hatched by the late billionaire Nawab Shah Alam Khan and his family, which also led to the then Majlis legislator Amanullah Khan to break away from Majlis along with another legislator Mumtaz Ahmed Khan, who returned to the party later. Nawab Shah Alam's eldest son Mahboob Alam instigated Siasat Daily Editor Zahed Ali Khan to contest against Salahuddin Owaisi. I witnessed this toxic conversation incidentally when I was on an assignment (during my stint at Deccan Chronicle) to interview Chef Mahboob Alam at his Barkatpura residence. 'Arey Zahid, Tu Thhaher jaa Kandey ke Qilaaf Lok Sabha election mein! (O Zahid, you contest against the squint-eyed in the Lok Sabha election – 1996). After failing in this attempt, Mahboob Alam propped up Amanullah Khan to oppose Owaisi senior. In 2009, Zahid Ali Khan tasted bitter defeat at the hands of Asaduddin Owaisi in Lok Sabha polls. There have been legal battles too.
From 1995 onwards, close to two and a half decades, the Shah Alam Khan – Salahuddin Owaisi families were bitter rivals. Mahboob Alam Khan and family with business interests ranging from tobacco to dairy farming to agriculture needed clout to save their billions. They sought to take refuge in the towering clout of Asaduddin Owaisi, who has friends across different political parties including the Bharatiya Janata Party (BJP). Asaduddin Owaisi also thought it best to bury the hatchet once and for all. The culmination of this compromise resulted in Mahboob Alam's nephew Barkat Alam marrying Asaduddin Owaisi's eldest daughter in a talk of the town fairytale wedding last year. Mahboob Alam – Zahid Ali Khan duo were separated with this shrewd masterstroke from Asaduddin Owaisi.
The new groom Dr. Abid Ali Khan – the second son-in-law of Asaduddin Owaisi is the nephew of Siasat Editor Zahid Ali Khan. Dr. Abid is the son of Dr. Mazharuddin Ali Khan. It remains to be seen if this alliance brings an end to the bitter rivalry of Zahid Ali Khan and Asaduddin Owaisi. If they decide to let bygones be bygones, it will make Asaduddin Owaisi more formidable. It will allow him to concentrate on the expansion of Majlis beyond Telangana, which his father Salahuddin Owaisi did not have the luxury. Salahuddin Owaisi was tied down and restrained to concentrate on Hyderabad only due to the conspiracies to obliterate Majlis.
In the medieval history of India, many marriage alliances especially between Moghuls and Rajputs brought peace and friendship. Asaduddin Owaisi is the uncrowned King of Hyderabad, who seems to be winning over his bitter critics and rivals with marriage alliances!